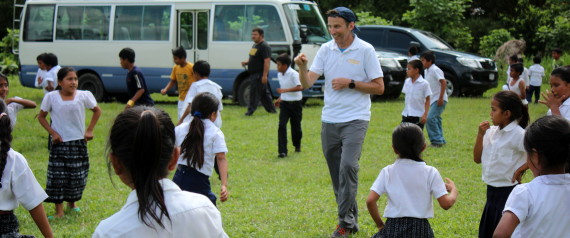 I left a 30-year career in for-profit education with hopes of changing the future for the world's most vulnerable young students. Bringing quality education to all, the mission driving Pencils of Promise, may be the most challenging work with the highest stakes I have ever taken on.
Yet, as the name of our NGO alludes, there is promise.
Later this month, the United Nations will convene to celebrate its 70th anniversary, working toward a compelling vision for sustainable development as articulated in its goals (SDGs) for people, planet, prosperity, peace and partnership. By necessity, the group's policy lens will focus on the highest level and set inspirational goals from which individual countries can begin to shape more specific targets.
Thankfully, this broad, diffuse light brings attention and awareness to a pervasive need — 250 million children worldwide lack basic reading, writing and numeracy skills. One in three of our planet's youth fall far short of achieving literacy levels necessary to complete primary education, progress to secondary education and rise above a subsistence economy.
If children are indeed our future, then our future is at risk. But, there is abundant evidence suggesting that now is the time to achieve both systemic change and local impact.
Achieving SDG 4 — "ensure inclusive and equitable quality education and promote lifelong learning opportunities for all" — requires two breakthroughs. First, we must define and achieve higher quality. Then, we must find effective means to reach every child, to satisfy the "for all" component.
I lead Pencils of Promise (PoP), a small, innovative NGO focused on bringing quality education to rural communities in Ghana, Guatemala and Laos. We live and breathe education, especially "for all." Impact and return on donor's dollars necessitate that we adopt a rigorous, hypothesis-driven, trial-and-error approach to identifying what works.
And here, too, there is good news.
Over the past year in Ghana, we implemented programming — including teacher training and e-readers for every student — designed to boost literacy rates. The results showed that 89 percent of sixth-grade students receiving PoP programming achieved benchmark literacy proficiency, versus 56 percent in a control group. This coming year, we will scale this programming to reach more communities and further validate outcomes.
Achieving these gains required a methodical and customized approach to addressing conditions in Ghanaian primary-school classrooms. These programs will not be easily transferable to Laos or Guatemala. There are few economies of scale in this work, at least until broadband internet access is ubiquitous.
What we can share, however, is that a custom approach to promoting quality education includes the following essential ingredients:
Partnership. Faced with deep need, there is a tendency to act. Instead, we ask first, act later. We ask governments and people what they need most, where and why. We trust but verify — with frequent visits to validate need and evolving conditions. Teachers, students and communities are receptive to PoP because of our authentic, equal partnership with local communities, national Education Ministries and regional governments. We do together what no one partner could achieve alone.
Accountability. We don't believe in handouts. Instead, we hold partners accountable for their contribution to a school, before we make ours. PoP builds primary schools for entire communities, for all students and parents to share and feel ownership.
Transparency. We continue working in communities after we build a school to implement water, sanitation and hygiene programs as well as literacy-boosting technology and teacher support. Being there allows us to frequently collect data and share it with our stakeholders. As a result, 100 percent of the 304 schools that we've built are operating — no incomplete builds, re-purposed buildings or failed schools here.
Gender Equality. In Guatemala and Ghana, we require Promise Committees comprised equally of men and women to lead our projects from beginning to end, helping further engage the community and providing vital linkage to our staff.
Local. At PoP, we empower and encourage local staff. Each of our Country Directors knows their country best — our role is to support their visions, not impose our own. PoP team members speak the native languages of communities, spend months there during the school builds and visit at least monthly thereafter. Quality education takes time and persistence.
On September 8, Pencils of Promise is lighting the Empire State Building yellow, like a pencil, to celebrate International Literacy Day and raise awareness of the 250 million children who lack basic reading and writing skills. As we look up at the NYC skyline, we will reflect on our own privilege of receiving a quality education.
This post is part of a series produced by The Huffington Post, "What's Working: Sustainable Development Goals," in conjunction with the United Nations' Sustainable Development Goals (SDGs). The proposed set of milestones will be the subject of discussion at the UN General Assembly meeting on Sept. 25-27, 2015 in New York. The goals, which will replace the UN's Millennium Development Goals (2000-2015), cover 17 key areas of development — including poverty, hunger, health, education, and gender equality, among many others. As part of The Huffington Post's commitment to solutions-oriented journalism, this What's Working SDG blog series will focus on one goal every weekday in September. This post addresses Goal 4.
To support One Million Words Asia Literacy Organization work in Laos please donate at www.onemillionwords.org/donate.html