Some two million residents in northwest China's Xinjiang Uyghur Autonomous Region are set to receive a series of books on families and women in the next few weeks, as part of celebrations to mark the 60th year since the autonomous region was founded.
The books are being donated by the All-China Women's Federation (ACWF), which held a book donation ceremony in the region's Kashgar on September 16.
Song Xiuyan, secretary of the ACWF's Party leadership group, vice-president and first member of the Secretariat of the ACWF, attended the event and handed out the books to representative local families.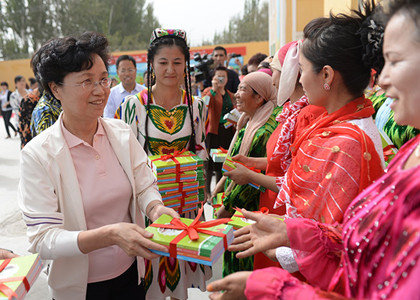 Song Xiuyan, secretary of the ACWF's Party leadership group, and vice-president and member of the Secretariat of the ACWF, hands out books to local women in Xinjiang. [China Women's News/Yang Rui]
The books are written on the themes of parenting, teenage safety, women's health and infant care, and are published both in Chinese and ethnic Uyghur languages.
With vivid illustrations, they provide recipients with a useful and easy-to-follow guideline in their daily lives.
The publishing of the bilingual books shows the care of the Party and the government for Uyghur families and symbolizes the deep bond between women's federations and Uyghur female citizens, said Song at the donation ceremony.
The books were well received by readers.
"It was useful. I have slept badly recently. After reading the book, I know it is normal," said one middle-aged woman who pointed to the chapter on the menopause.
"I like this best," said a woman who picked up the volume on how to be a good parent. "My husband and I agree that we should not beat or curse our son, but talk with him nicely," she added.
While chatting with them, Song expressed her wish that all Uyghur women could live happier and more harmonious lives.
The books, a product of over a year's preparation, are the first batch of their kind delivered to the locals in southern part of Xinjiang.
The second batch on related themes are being translated and reviewed and will be ready by the end of this year.
Vice-Secretary of the Standing Committee of the Party Committee of Xinjiang Uyghur Autonomous Region Aierken Shiniyazi; Vice-President of the Chinese People's Political Consultative Committee of the Region and Vice-President of the ACWF Reziwan Aibai; and Vice-President of the ACWF Jiao Yang, were among the officials who attended the ceremony.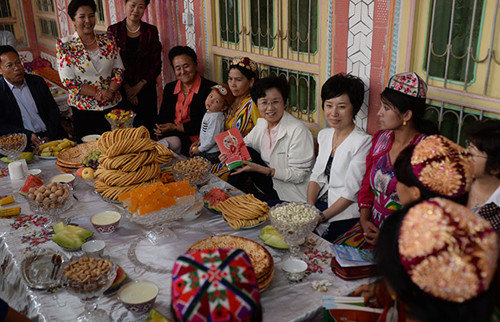 ACWF officials chat with local women in Xinjiang Uyghur Autonomous Region. [China Women's News/Yang Rui]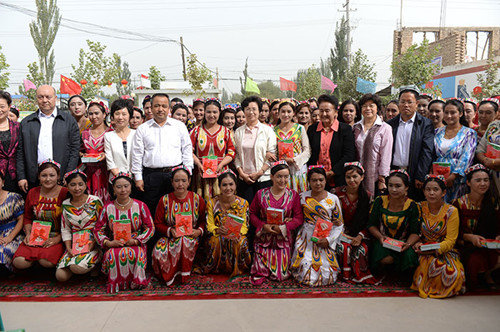 Officials pose for a group photo with women that received the books. [China Women's News/Yang Rui]
(Source: China Women's News/Translated and edited by Women of China)
Read more on our website and Like us on Facebook , follow us on Twitter, and on LinkedIn to get the latest news about literacy in China!